Nationwide summons servers / PROCESS SERVERS, TRACING AGENTS AND INVESTIGATORS
Aserve, Data Processors and PSA licensed summons servers , tracing agents and investigators have a nationwide network of over 70 compliant, trained and experienced agents with extensive experience as summons servers and tracing agents. We have investigators / agents based in every county in Ireland. Our extensive network of summons servers and tracing agents allows us to provide set fees and no travel charges throughout the whole country for summons serving and trace inquiries.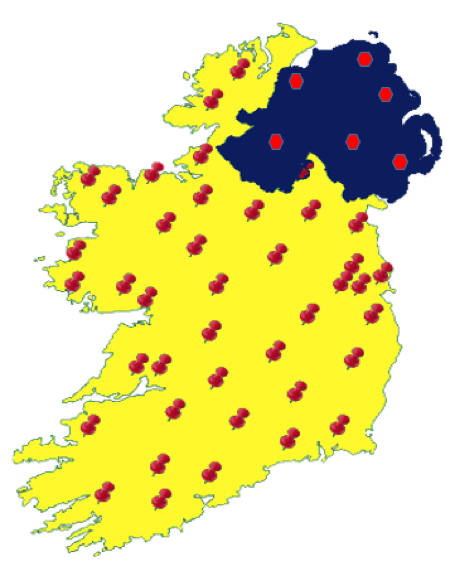 Our summons servers / process servers, tracing agents, and insurance investigators are retired members of An Garda Siochana or Northern Ireland Police Service. Their experience in investigations and local knowledge is invaluable to the successful service of documents, and tracing investigations.
WE HAVE A TEAM OF over 70 EXPERIENCED INVESTIGATORS WITH EXPERTISE IN:
Summons servers / Process servers
Specialist Investigators
Tracing agents
Preparing Lifestyle reports
Status reports
Asset trace reports
Road Traffic Accident Investigations
Fire Damage
Accidental damage caused by other factors (Storm, water, etc.)
Handwriting and Document Forensic Experts
Our agents will obtain witness statements, injured party statements or any statements as requested by a client an including statements via the phone. They are also expert at preparing reports with valid factual information on which to make decisions.
All Aserve summons servers / process servers, tracing agents, and specialist investigators, are given training before they undertake work for Aserve and they have annual CPD training.
Our network of investigators work closely with our office team of managers and researchers to deliver the best possible results. The summons servers / process servers, investigators and tracing agents are based locally for inquiries. This allows our network to get the best results. The combined efforts of the locally based agents and an expert office team of researchers and agent managers means Aserve can provide the best results for all our service continually. The management are assisted in management of such a large network by the best IT job management system available. This IT job management system was developed specifically for our business.
Aserve have a nationwide summons servers / process servers and tracing agents have locations in:
Summons Server Cavan – Summons Server Carlow – Summons Server Clare – Summons Server Cork – Summons Server Donegal – Summons Server Dublin – Summons Server Galway – Summons Server Kerry – Summons Server Kildare – Summons Server Kilkenny – Summons Server Laois – Summons Server Leitrim – Summons Server Limerick – Summons Server Longford – Summons Server Louth – Summons Server Monaghan – Summons Server Mayo – Summons Server Meath – Summons Server Northern Ireland – Summons Server Offaly – Summons Server Roscommon – Summons Server Sligo – Summons Server Tipperary – Summons Server Waterford – Summons Server Westmeath – Summons Server Wexford – Summons Server Wicklow – Summons Server Northern Ireland.
Tracing Agent Cavan – Tracing Agent Carlow – Tracing Agent Clare – Tracing Agent Cork – Tracing Agent Donegal – Tracing Agent Dublin – Tracing Agent Galway – Tracing Agent Kerry – Tracing Agent Kildare – Tracing Agent Kilkenny – Tracing Agent Laois – Tracing Agent Leitrim – Tracing Agent Limerick – Tracing Agent Longford – Tracing Agent Louth – Tracing Agent Monaghan – Tracing Agent Mayo – Tracing Agent Meath – Tracing Agent Northern Ireland – Tracing Agent Offaly – Tracing Agent Roscommon – Tracing Agent Sligo – Tracing Agent Tipperary – Tracing Agent Waterford – Tracing Agent Westmeath – Tracing Agent Wexford – Tracing Agent Wicklow – Tracing Agent Northern Ireland.